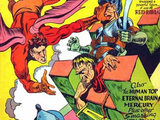 November 1, 2011
 
Heritage Auctions is to sell the remaining copies from the Edgar Church Mile High Collection later this month.
Original copies of Will Eisner's Spirit, and the Jack Kirby-drawn Red Raven #1 will be among the 150 books going under the hammer at the event, reports ICv2.
The comics are the last remaining issues of an 18,000-copy collection of pre-1955 comics, valued at more than $100 million (£72m). Mile High founder Chuck Rozanski said that he held on to the comics due to their rarity, and out of respect for their creators.
Bob Andelman is the author or co-author of 12 books, including Mind Over Business with Ken Baum, The Consulate with Thomas R. Stutler, The Profiler with Pat Brown, Built From Scratch with the founders of The Home Depot, The Profit Zone with Adrian Slywotzky, Mean Business with Albert J. Dunlap, and Will Eisner: A Spirited Life. Click here to see Bob Andelman's Amazon Central author page. He is a member in good standing of the American Society of Journalists and Authors (member page).
Copyright 2011 Bob Andelman. Click here for copyright permissions!

Tweet
Follow @andelman
Subscribe in a reader