By Mark Frauenfelder
Oct. 21, 2010
Forty years in the making, The Someday Funnies is a 12″ x 16″, 215-page book containing color comic strips about the 1960s. They were created by famous cartoonists in the early 1970s for a Rolling Stone project that never materialized. Finally, these comics are seeing the light of day!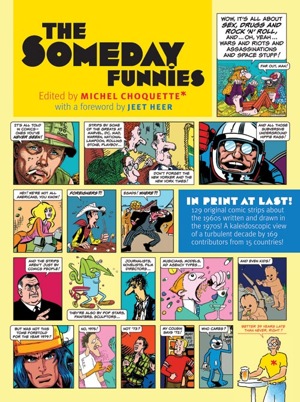 The Someday Funnies is the long-awaited collection of comic strips created in the early 1970s by world-famous artists and writers. What started out as a special insert for Rolling Stone took on a life — and mythology — of its own as writer/editor Michel Choquette traveled across two continents, commissioning this visual chronicle of the 1960s, only to find himself without a publishing partner or the financial support to continue — until now.
Among the contributors Choquette commissioned are cartoonists and comic book luminaries such as Will Eisner, Art Spiegelman, Harvey Kurtzman, R.O. Blechman, Jack Kirby, Ralph Steadman, Sergio Aragones, C. C. Beck, Vaughn Bode, Moebius, Jean-Claude Forest, Gahan Wilson, Barry Windsor-Smith and Wally Wood; notable writers William S. Burroughs, Harlan Ellison, Michael O'Donoghue, and Tom Wolfe; celebrated film director Federico Fellini; artists Red Grooms and Allen Jones; as well as renowned musicians Pete Townsend and Frank Zappa.
Bob Andelman is the author or co-author of 12 books, including Mind Over Business with Ken Baum, The Consulate with Thomas R. Stutler, The Profiler with Pat Brown, Built From Scratch with the founders of The Home Depot, The Profit Zone with Adrian Slywotzky, Mean Business with Albert J. Dunlap, and Will Eisner: A Spirited Life. Click here to see Bob Andelman's Amazon Central author page. He is a member in good standing of the American Society of Journalists and Authors (member page).
Copyright 2011 Bob Andelman. Click here for copyright permissions!

Tweet
Follow @andelman
Subscribe in a reader